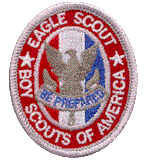 118 Eagle Scouts:  1956 – 2015
(Some names contain links to photos)

Click here for a photo of Eagle Scouts, past and present, gathered at the 50th Anniversary Celebration for Troop 72, March 2004.
Chairman of Northampton Marine Corps League Eagle Scout Program – Robert Gavin, 610-746-9851.  Mr. Gavin is available for Eagle Scout Courts of Honor.