Proud of our Past…Poised for the Future!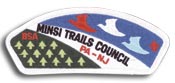 B.S.A Troop 72 – Camp Spirit, Fogelsville, PA
North Valley District, Minsi Trails Council
Established 1954
Chartered by the Group of Citizens, Inc., Fogelsville, PA
---
Welcome to the Troop 72 website. Be sure to check out the latest edition of the Troop 72 News, upcoming event information, and the latest Troop photos in our Media Gallery. Keep up-to-date with Troop activities using the On-Line Calendar. Troop 72 is located at Camp Spirit in Fogelsville, near Allentown, PA. We are an enthusiastic group of Scouters dedicated to teaching leadership and Scouting skills to aspiring young men, ages 11-18. Our program is Boy-Led and focused on the Three Aims of Scouting:

The ideals of Scouting are spelled out in the Scout Oath, the Scout Law, the Scout Motto, and the Scout Slogan. The Boy Scout measures himself against these ideals and continually tries to improve. Our Scout program is "boy-run." The Scouts plan their activities and events and learn leadership through the process. Our Scouts also have lots of fun in a program with a wide range of activities throughout the year. Our Troop Meeting is held every Monday night from 7:00 – 8:30 PM.
Troop 72 is chartered through the North Valley District of Minsi Trails Council, which covers eastern Pennsylvania and part of western New Jersey. Troop 72 is one of the few remaining independent Scout organizations in the nation and is sponsored by the Group of Citizens, Inc., Fogelsville, PA.
Group of Citizens, Fogelsville, PA, Inc.
President – Gary Laudenslager

Vice President – Dave Kutzor

Secretary – Phil Martin

Treasurer – Stan Tantsits

Charter Representative – Nevin Cope

Troop 72 Scoutmaster – Dennis Nagy

Troop 72 Committee Chairperson – Cilla Nagy

Troop 72 Member-at-Large – John Derhammer

Pack 72 Cubmaster – Bob McCauley

Pack 72 Committee Chairperson – Roland Krebs


Pack 72 Member-at-Large – Nick Wehrheim